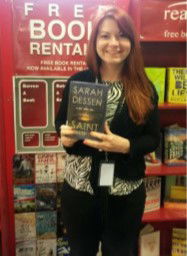 What's your name?
Mrs. B. (Mrs. Biener)

How old are you?
Pretty old : )

When is your birthday?
October 13th.

Do you have any pets?
Yes, two cats and a puppy! Their names are Brandy, The Captain and McKinley

What is your favorite color?
Orange, black and grey. Our school colors!

What is your job title?
I am the library media specialist at Babylon Jr. Sr. High School. It's really just a fancier way of saying "school librarian."

What do you do exactly?
I have lots of responsibilities-
Book specialist and reader advisor,
Information specialist
Research specialist
Technology specialist and technology
trainer
Teacher
Library Facilities Manager- Book ordering, budgeting, book processing

Is your job boring?
Never! Look at all of the stuff I do- I'm busy all of the time. I get to be around books, computers and students all day! How could I ever be bored?

Do you have a favorite book?
This is really tough. I love so many books. My all time favorite series is the Harry Potter series, and I've reread the book A Prayer For Owen Meaney by John Iriving a million times.

Who is your favorite musical artist?
Again, this is a hard choice. I love all types of music. I listen to everything from jazz music to anything on z100. One of my favorite bands of all time is Weezer.

What is your favorite TV show?
Though I hate to admit it, I love watching TV almost as much as I love reading! My favorite TV shows are The Office, Parks and Recreation, MTV's True Life series and nearly everything on HGTV.

What is your favorite movie?
I love all different types of movies, but I would have to say my favorite movie of all time is The Sound of Music. I also enjoyed The Hunger Games series and The Fault in Our Stars adaptions. Come see me for a list of books that are in the process of becoming movies!

Would you rather….?
Live without television or the internet?
Television. I am constantly online, checking out fun technology for my students. I couldn't live without the internet.

Live without pizza or ice cream?
Also a hard choice! I love pizza and ice cream. I would choose pizza because I don't really have that much of a sweet tooth. I could eat pizza every day and would never get sick of it!